My Team
It seems in our current era, businesses seem to have forgotten the effect a human to human interaction can have. It has fallen to the wayside, replaced with automated phone menus and automatic e-mails. Verena Lewandowski has not forgotten. Here, you can be assured that there is always someone on the other end of the phone, behind the screen, handling your service from beginning to end. Though we are diverse in our interests, we are united as one to handle your needs as efficiently as possible.
Meet our excellent staff.
---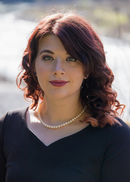 Kayla Eve Williams
Associate Financial Representative
Office 503-223-7335

After dabbling in various customer service jobs, Kayla Williams took her position as an Assistant to Verena Lewandowski. Starting as a part time summer job in 2007, Kayla is now a licensed Associate Financial Representative, and a full time employee. Kayla is the voice you will hear when you call our office, and the one handling all of your service needs. When not in the office, Kayla enjoys spending time with her significant other and her cat, Boba Fett, as well as hiking, writing, video games and all other nerdy pursuits.